Leap Transit, a San Francisco-based startup, aimed to rethink mass transit by providing a more comfortable, productive, and enjoyable ride. Instead of starting the morning waiting in the rain, crammed into a crowded bus, or sitting in packed traffic on the highway, Leap set out to put some positive momentum into the daily commute. Featuring a fleet of buses that offered food and drink service, plush seating and barstools, and Wi-Fi and USB ports, Leap put a refreshing spin on commuter comfort.
For many, the morning and evening commutes are the most soul-crushing parts of the day, but what if getting to and from work could be productive, enjoyable, and even fun? We joined two San Francisco entrepreneurs to radically rethink the way people commute. The result? Leap, a ride to work that more closely resembles a favorite coffee shop than a traditional bus commute.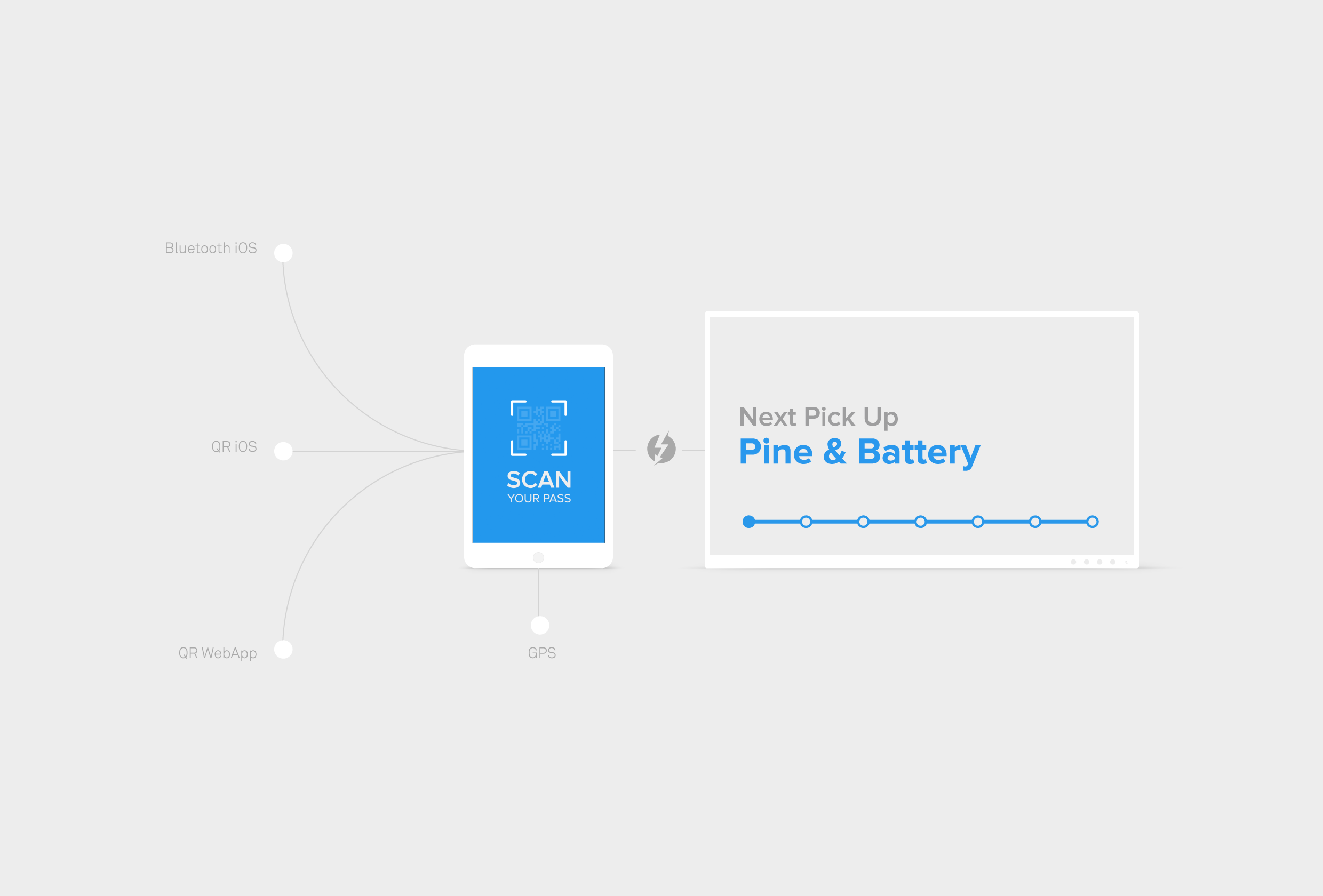 As a categorically different transportation option for commuters, it was important for Leap to look and feel different from the average morning grind. We ensured every part of the Leap brand – from its leaping dog logo to bus stop signage to the interior and exterior design of its buses – was clean and modern, while staying fun and approachable.
It wasn't enough to create a unique, playful look; we knew Leap's infrastructure had to deliver a top-notch user experience to stand apart. We created a robust iOS and web app to cater toward a user on the go. Additionally, our combination of sophisticated technology and thoughtful design helped simplify the immensely complicated realm of transportation planning for the consumer. The mobile app allowed users to easily track buses on approach, manage credit cards, book a seat, pay the fare, order coffee and snacks, and even tap into social networking to connect with fellow riders.
We custom-crafted a wide range of marketing materials to support the much-anticipated launch of Leap. In addition to designing the Leap website and mobile app, we created flyers, social media posts, original photography, and a series of 30-second videos for Instagram and Facebook. This helped Leap generate widespread buzz, earning recognition from potential users as well as top-tier media.
We joined the Leap project with the goal of helping to design a comprehensive, connected transportation experience that spanned the digital and physical world. Whether it was researching the way cities plan and execute mass transit, studying the feel of the typical bus commute, or creating an easy-to-navigate mobile platform, this project reinforced our aim to meet the vast and technical design demands needed to create a comprehensive user experience.